Once Upon a Time's winter finale aired on Friday, December 15, and the events that unfolded marked a drastic twist in the storytelling of this season.
What began as an Into the Woods-style season slowly twisted into a darker drama immersed in witchcraft and life-threatening juxtapositions. Cinderella (Dania Ramirez), Rapunzel (Meegan Warner & Gabrielle Anwar), and Jack (Nathan Parsons) find themselves interconnected by a witch, Mother Gothel (Emma Booth) from Disney's Tangled, similarly to Into the Woods, but that simply remains the season's infrastructure. The finale erected upon it a more complicated story than previously anticipated and turned it in the direction of American Horror Story: Coven.
The winter finale introduced viewers to the Coven of the Eight – a group of witches led by Gothel whose motivations and goals are not currently known. The finale also marked the wicked return of Zelena (Rebecca Mader) and her now-adult daughter Robin (Tiera Skovbye), and the introduction of a resurrected Anastasia (Yael Yurman) to Hyperion Heights. The spring premiere's promo dubs the second half of the season the "war of the witches," and it's easy to see why. With a growing number of witches gathering in Hyperion Heights, a dark tonal shift was in order.
The war is only beginning, with Zelena and Regina (Lana Parrilla) unsure what actions to take in regard to the curse. If they break it, Henry (Andrew West) dies; likewise, if they don't, Lucy (Alison Fernandez) dies. Meanwhile, Gothel has taken the unknowingly powerful Anastasia under her care to become one of the members of her coven. The Coven of the Eight has the potential to be extremely threatening and a more fleshed-out version of the hooded Dark Ones we saw in season five. With the groundwork laid, there is nothing stopping the actions and subsequent consequences that will result from Gothel and the curse.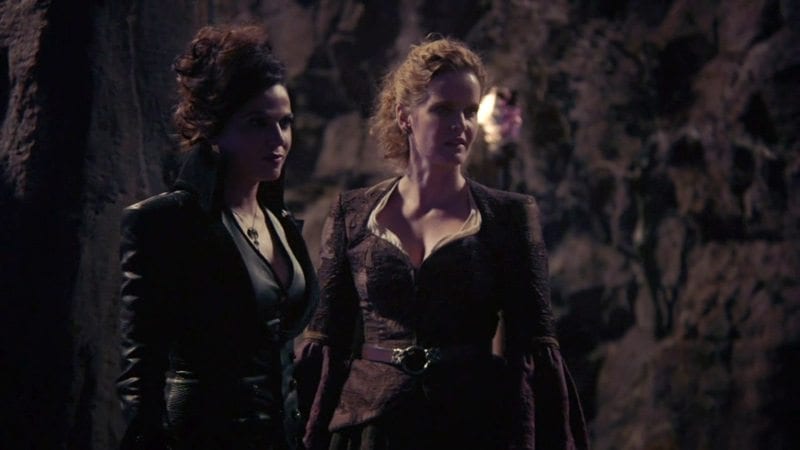 Hope is not completely lost, however. While it looked like everything was falling out, hope remains in its truest form on this show: true love. Alice (Rose Reynolds) and Hook's (Colin O'Donoghue) daughter-father relationship is always sweet to see, but the finale introduced viewers to Alice's romantic relationship with Robin and it was just as sweet. In an interview with TV Guide, Reynolds notes that viewers will get a full backstory about how Alice and Robin met and fell in love. She says, "They get off to a rocky start and… they slowly prove how much they mean to each other. They teach each other a lot; it's really beautiful, and it feels like a new beginning for both of them."
The finale opened more questions than it answered, but in this case this approach works. Had this been a season finale, a bitter aftertaste would have been left. However, twelve episodes remain when the season picks back up in the spring and many if not all of the remaining questions should be answered. While criticism for the show is understandable, time for background on a complicated story such as this season's needed time to set itself up, and the second round of episodes look to be picking up the pace and leaving no one left untouched. Furthermore, this season has delivered unexpectedly great moments throughout so far (I don't think any of us were expecting the intensity of Drizella's scenes in "Wake Up Call").
What burning questions are you most looking forward to being answered? While not necessarily the most important question, I would love to learn how Zelena regained her magic after she gave it up in season six and used it in the finale.
Once Upon a Time returns Friday, March 2, 2018, at 8 pm on ABC. As always, tweet us @Fuzzable with your excitement for this show or any other show you're loving!