I used to be the textbook case of a bookworm. As a kid, I would stay up past my 8:30 pm bedtime reading the latest Magic Treehouse book under the covers with a flashlight. I would spend entire afternoons at the bookstore or public library, marveling at the shelves stocked full of hundreds of new books for me to read. Sometimes, my mom would have to keep the books I bought or checked out because I'd finish them in the car before we even got home.
I was one of the few kids in my class who was actually excited to go to the school library every week- and I was on my school's competitive book trivia team for six years. I'd participate in reading programs and contests, and whip through the reading goals I set for myself. I even spent weeks perfecting a letter to my favourite author at the time, Daisy Meadows. Since I learned to read at age four, books have been a significant part of my life.
Then, I grew up. One of my biggest regrets is how I gradually gave up on reading throughout my teenage years. I still like to read, but it's just not the same as before. The time I usually spent reading slowly became dedicated to new and exciting hobbies, and then eventually piles of homework and other responsibilities. In fact, I just got out of the longest reading slump of my life, which lasted about six months.
About a month ago, I realized how much I missed getting lost in the pages of a book. Trust me, I was still escaping from reality- YouTube and TV shows had that covered. But nothing can quite compare to the act of reading a book, when you can fall into another world through someone else's words alone. I had this unexplainable itch to just pick up a book from my shelf and read it.
So, I turned a new leaf (or page). In March, I finished my first books in six months, and I really enjoyed reading them. I even have a few more book related posts planned for Fuzzable, in hopes that writing about books will make me even more excited to read them. I'm determined to kill my reading slump for good. If you're in the same position as me, here are some things that have helped me overcome my reading slump.
1. Get Excited!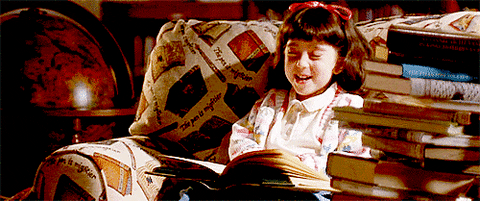 The first step to killing your reading slump is getting genuinely excited to read again. Browse your bookshelves, your to-read list, a bookstore or a library. Choose books that you had to resist cracking open, that had synopsises that intrigued you, or made you laugh or smile. Try books from an author you love or a good series you never got the chance to finish. If you've started a book and you're just not feeling it- stop. If you're forcing yourself to read something, it's just not fun. It will only make your reading slump worse.
2. Combine Your Interests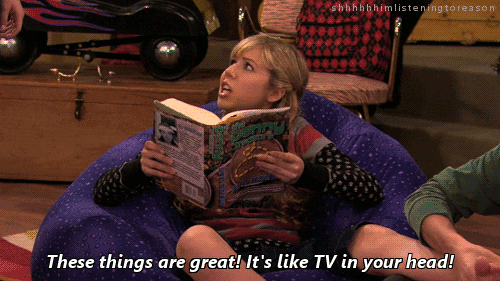 If you're always doing something else you find entertaining instead of reading, try to find a book about the subject. It works like a charm because there are books about literally anything you can imagine. Let's say you've been binge-watching The Vampire Diaries and you have no interest in a world where Damon Salvatore doesn't exist. Well, a quick search for "vampire YA novel" will probably return a bunch of books similar to the story you're obsessed with! Combining your interests is perhaps the most powerful tactic you can use to destroy a reading slump. You can still be involved in the other interests you have while gradually reintroducing yourself to the world of reading.
3. BookTube is Your Best Friend
An easy way to get excited about books is to watch BookTube videos! There's an entire community of people on YouTube who make entertaining videos talking about their love for books. Witnessing their excitement for reading and getting some book recommendations in the process might make you more eager to pick up a book. I always notice a correlation between how much BookTube I'm watching and how much I'm reading. The video above features one of my favourite BookTubers, polandbananasBOOKS, talking about how to escape reading slumps.
4. Use Goodreads- If It Helps
Goodreads isn't for everyone- many people prefer to read at their own pace and don't want to see numbers or statistics about their reading- and that's perfectly fine! However, it can also be a lovely organizational and motivational tool. There are so many features that are useful to me. Personally, I love the annual reading challenge, the shelving system, and the entire "Browse" tab. Even just scrolling through my feed and seeing what others are reading motivates me to pick up a book. You can add me on Goodreads if you'd like (#shamelessselfpromo).
5. Become a Regular at Your Local Library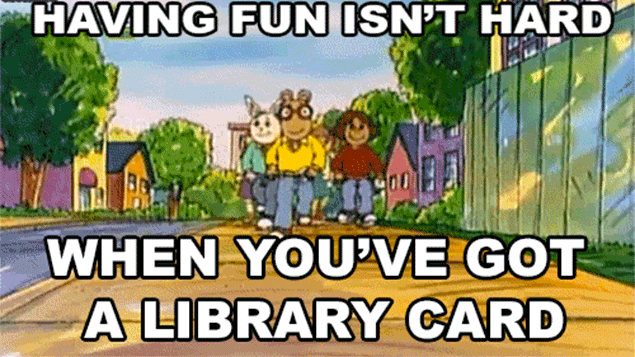 If you don't already, take advantage of the godsent gift that is your local library. Even if the selection isn't always the greatest, there are FREE BOOKS. I repeat- FREE BOOKS! Take out as many as you please until you find one that excites you. Even just browsing the shelves or chatting with the librarians can pique your interest in books again. There might even be a book club, book sales, or other events that'll get your reading mindset in gear. Honestly, we should all listen to Arthur the Aardvark more often.
---
If nothing else, I owe it to the younger version of myself to get back into reading. It's hard to imagine the look on her face if someone told her that she wouldn't pick up a book for six months. I miss the passion and genuine excitement that reading brought me. I hate looking at all of the books I want to read and just brushing them aside.
Thousands of exciting new worlds are waiting to be discovered through reading. There are fascinating stories to fall into and countless things to learn, laugh, and cry about. There are communities of people just like the girl I used to be, eager to talk about and share their love for a particular story. Also, there's no better way for me to grow as a writer than constantly absorbing other peoples' words. All I need to do is turn the page. This is Operation: Kill The Reading Slump.
Do you have any tips for killing a reading slump? Tweet us @Fuzzable, or tweet me your thoughts @rietherie.