From dropping a new song to a myriad of announcements, Nicki Minaj is on a roll today and we are all rejoicing.
Kicking off things is the release of her new song "Rich Sex" (which can be listened to here). The track emphasizes the Queen's flawless flow over a sultry beat and, as always, finds the rapper speaking nothing but facts. Boasting longtime friend and collaborator Lil Wayne, the song continues Nicki's return to music after April's "Barbie Tingz" and "Chun-Li". This return all leads to Nicki's fourth studio album, Queen, which is slated for an August 10, 2018, release.
Bed out Thursday #Queen @nickiminaj i love you forever & ever pic.twitter.com/RUnaRMTTTS

— Ariana Grande (@ArianaGrande) June 11, 2018
In addition to "Rich Sex," Ariana revealed the upcoming Thursday, June 14, 2018, release of "Bed." Obviously featuring Ariana, "Bed" will follow the duo's string of songs together, which include Nicki's "Get On Your Knees," Ariana's "Side To Side," and "Bang Bang."
According to Nicki, Queen will also become available for preorder on June 14 with the release of "Bed."
While "Bed" appears to be Nicki's song featuring Ariana, fans are also excited because Ariana's upcoming album Sweetener will include a song featuring Nicki. Titled "The Light Is Coming," the single will be available on June 20, 2018, for streaming and download.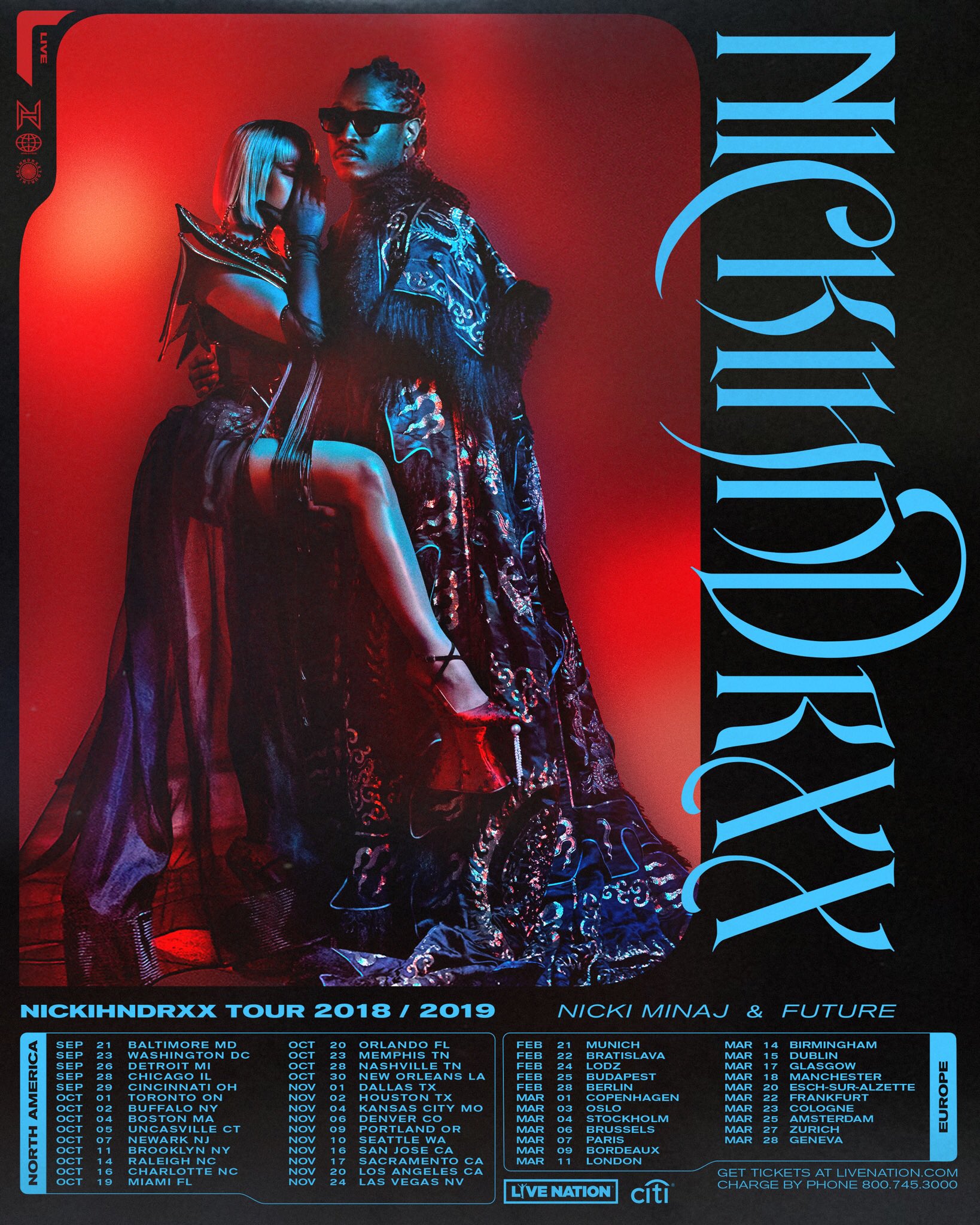 You may be thinking, "Wow, she released a new song and has two Ariana collaborations coming in the next two weeks. That's got to be it, right?" Nope! Moments before the release of "Rich Sex," Nicki dropped the first information on her upcoming collaborative tour with fellow rapper Future: the NICKIHNDRXX Tour.
She dropped the dates for North America and Europe, and afterward confirmed that dates for the rest of the world were still yet to be announced – so don't fret if you don't see your country or city on the photo!
Some fans grew concerned because of the collaborative tour after Nicki having been gone for so long, but for reassurance she had this to say:
I'll be doing a full set of #Queen & older material so I guess, yes, if you'd like to think of it like that. My fans AND his fans will get exactly wtf they came for and THEN SOME! I'll just leave it at that. Cuz this tour >>>>>>>>>>>>>>>> like y'all rlly have no fkng idea ??? https://t.co/s7Tr0Awq18

— Chun-Li (@NICKIMINAJ) June 11, 2018
With that said, it seems we can rest easy and enjoy the tour the Queen is putting together for us.
Bonus: Nicki is filming the music video for "Big Bank" – her recent song with YG, 2 Chainz, and Big Sean – today.
Are you excited for all of the announcements today? Comment below and tweet us @Fuzzable with all of your love for the Queen herself!