Welcome to Fuzzable's crush alerts. A section of our site where we bring you the hottest celebrities and influencers. We want to provide you with a reason to be able to take a break from your busy day and revel in our crushes greatness. On this edition of Crush Alert, we bring you the relatively new addition to the MCU family: Tom Holland.
Who is Tom and why do we have a crush on him?
Tom Holland has been the talk of the internet ever since Marvel announced that he'd be portraying Peter Parker in Civil War. Let's all just accept the fact that Tom blessed us the most accurate portrayal of the cheeky, talkative web slinger. Before his debut though, Tom gained some experience in theatre as a dancer in Billy Elliot the Musical, and his work got a lot of praise from critics and the general audience (even sir Elton John, who was a composer for the musical, admitted that he was "astonished" and "blown away" by Tom's performance). You can also catch him next to Chris Hemsworth in In The Heart Of The Sea where he amazingly captured what it's like to be a fourteen year old sailor. In his MCU work, he's been in three movies: Captain America: Civil War, Avengers: Infinity War, and his standalone movie Spider-Man: Homecoming. Holland is currently focused on the sequel titled Spider-Man: Far From Home and is once again working with Robert Downey Jr. for The Voyage Of doctor Dolittle. We just can't get enough of the dynamic duo!
Photographic proof that Tom is crush-worthy
He is constantly smiling, and it's the most beautiful thing ever. Even in this pic which he shared with an obviously tired grin after working on the Spider-Man sequel for eight weeks.
And when he's not working on Spider-Man, he's having a blast with photoshoots. Safe to say that the camera absolutely adores him, almost as much as we do.
Tom has never hidden his love for his dog, a gentle pit bull named Tessa. The separation from his pup takes a toll on both of them, but their reunions are always magical. It's photos like this that Instagram was made for. We'd recommend the couple join Chris Evans and his dog Dodger for a puppy play date!
And for the grand finale- Mr. Holland with a bouquet of flowers, just in case you needed it in your life. Which you do. We all do, and we're not ashamed to admit it.
Seeing Tom in action
We could've chosen to make you emotional right now by putting the "Mr. Stark I don't feel so good" scene in this segment, but we're going to spare you (and us) the tears and allow you to enjoy and feel inspired by this scene and Tom Holland's masterful performance in it.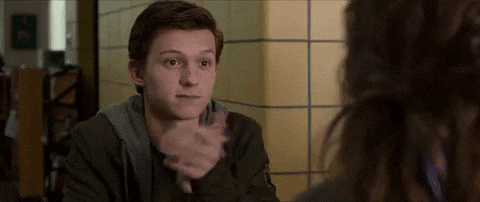 How to keep up to date with Tom Holland
One of the things we're going to be grateful this Thanksgiving is the fact that Tom posts on his Instagram account fairly regularly. His Twitter doesn't see as much action, but when he does post it's something you won't want to miss, like this masterpiece:
One of my many talents is shredding on the Kazoo

— Tom Holland (@TomHolland1996) April 26, 2018
Like what you see? You can follow Fuzzable on Twitter, Instagram, and Spotify for your daily source of crushes, makeup, fashion, music, and so much more.