I was tempted to call this blog post "Love Means Nothing" or another similarly dramatic tennis pun- but I decided to spare you the corniness. So, as you may have guessed, this blog post is going to be about my experience being on my school sports teams.
Believe me, I am not a sports person. In fact, I don't really exercise for the six or seven months of the year that you can't play tennis outside. But in the summer months, I enjoy playing tennis for fun and exercise. I've been playing every season since I was six, but I've never really done anything competitive or professional.
I also never thought I was a team sports person. As far as extra-curricular activities went in elementary school; all you need to know is that they never required me to leave the library, never mind enter the dreaded school change room. However, that quickly changed in my last few years there when I joined my elementary school's basketball team.
For the duration of basketball season, I basically pretended to be a professional athlete- and it was so much fun. I lived off granola bars and blue Gatorade, my hair was always in a messy ponytail, and almost every day there was either a practice or a game for me to attend. I learned plays and sports terms and strategies, and I actually improved at basketball. The coach even put me on the starting line for a few games, which felt like the best thing in the world at the time. I got closer to the other girls on the team, and I felt like I belonged to something. We never got very far in any of the tournaments, but for once I didn't care that much about winning. The memories of that team are some of the fondest I have from elementary school.
And then it ended. I graduated and moved on to high school, where I knew sports teams were very competitive and almost exclusive. So I didn't even bother trying out for basketball because I knew I wasn't that good. In hindsight, I regret this a little bit. I should have at least tried out. I know I'm still young, but I honestly can't see myself ever playing basketball on a team again. It's kinda sad to think I threw away that chance.
But once I started high school, I had my sights set out for something my elementary school never had- a tennis team. I joined the team in both grades 9 and 10, and I loved it both times. Again, I had a blast pretending to be an athlete- particularly my tennis idol and fellow Canadian, Eugenie Bouchard. I went to practices almost every day, met new people, and upgraded from a smelly basketball uniform to cute running shoes and tank tops. The annual tournament was always so much fun- from the excitement of missing classes to cheering on teammates to the nerves before matches. In my first year, I even won a silver medal! I was really looking forward to joining the team again this year. I had so much fun last year, and it helped me get out of a rough patch I was having. And as much as I'd like to say that I had just as much fun as years past… it wasn't exactly the same. I still enjoyed it, but I definitely wasn't as excited as I was last year. I didn't know many people on the team and the season was particularly short.
But then came May 17th- the day of the tournament. I was pretty stressed since I had two tests the next day and I would be would be exhausted and unable to study for very long when I got home. But once I arrived at the tournament, seeing the familiar setting and faces got me back into the spirit. Then I got back onto the court- and I remembered why I enjoyed the last two tournaments so much. I thrive on the adrenaline those matches give me. I can hear and feel my heart pounding, my eyes are in tunnel vision, and the only thing on my mind is winning the point. It's like the feeling I get when I'm taking a math test or finishing a really big project- but on an entirely new level. I wish I could bottle that energy and save it for my worryingly frequent procrastination episodes.
My tennis partner and I ended up winning all four of our matches, which got us the gold medal in our regional tournament for senior girls doubles! I was in disbelief, and the whole ride home I was smiling- and beginning to ache from literally head to toe.
Absolutely exhausted but so, so worth it. pic.twitter.com/8gWbXAo1Kc

— Annemarie (@rietherie) May 17, 2017
Unfortunately, this is where the season began to take a turn for the worse. Long story short, by winning that tournament my partner and I qualified for the next tournament, at a provincial level. The next day, we found out that our school messed up some paperwork and we were no longer eligible to participate. It was disappointing news, and even though I wasn't expecting to qualify in the first place, it brought the season to an abrupt and unsatisfying end. I'm still a little disappointed, but I have the entire summer to play tennis just for fun- and I still have senior year to experience that tournament-induced adrenaline rush.
To wrap this up, I guess there is a lesson to learn in this blog post: you never really know what you might enjoy doing unless you try it. I've never considered myself a sports person, so it's pretty ironic that my elementary school basketball team and high school tennis team created some of the best memories I have from my school years so far. So…try new things?
One last note- don't let this blog trick you into thinking I'm some sort of exercise guru. When it comes to most sports, I can relate a little too much to this dog: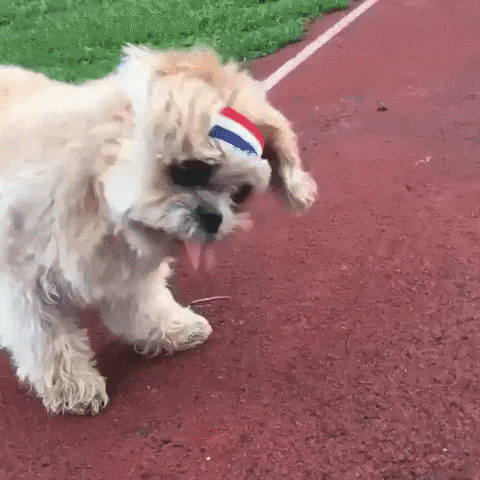 See you next month (if exams don't kill me).
-Annemarie (#27)
Share your thoughts with me on Twitter @rietherie, and keep up with us @Fuzzable!