Hey! It's me, back again for another Fuzzable blog. This is the first time I've posted my blog a week late, but between the issues our site was having and the hectic month I'm going to tell you all about, I hope you can forgive me.
Since I posted my last blog, my life has been a literal whirlwind. I don't ever remember being as busy as I was in June 2017. I had so many final projects and exams to work on at the same time, and I was genuinely struggling to keep up. This homework tornado forced me to take an extended break from CelebMix and Fuzzable, which made me feel even worse.
I was constantly nearing my breaking point; stress, pressure, to-do lists, and responsibilities crowded my mind and left room for nothing else. When I did have any spare time, I had no energy to do anything that required even an ounce of brainpower. Books and writing got pushed aside in favour of YouTube and TV shows, and that semi-healthy and active lifestyle I talked about last month went completely out of the window.
On top of all this, something else happened in June. I got a job! Yes, right in the midst of two huge final projects and several crises, I got hired. Admittedly, the timing wasn't the greatest. But I had been trying to get a part-time job for the past two years without any luck, so I decided to suck it up and add yet another thing to my crazy schedule.
I got hired at my local ice cream shop as a scooper, and it is my first real job. I had originally applied in March and hadn't heard anything back, so I really wasn't expecting to get a call at the beginning of June. They asked me to start as soon as possible and I instantly melted into a puddle of nerves.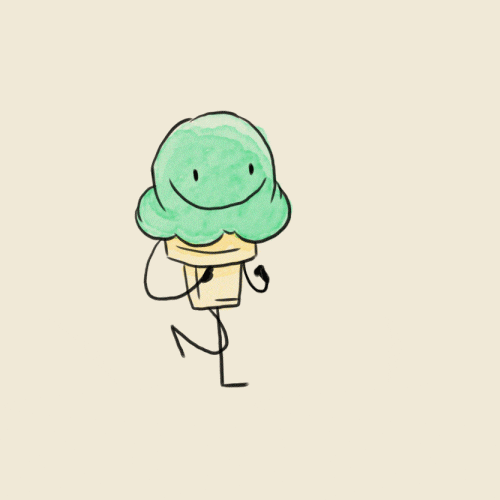 I was worried about every little thing imaginable, but I was also really excited to finally start working. I'm almost one month into the job now, and I'm getting used to it. It obviously takes some time to get familiar with everything, and I'm trying not to be too hard on myself if I don't know something or have to ask a question. I've learned so much in the first month already, and I'm generally pleased with how it's been going.
Of course, there have been some hiccups along the way. Whether it be a difficult customer, finding khaki pants that actually fit me, or just feeling overwhelmed, it hasn't been an easy ride. After one shift where the ice cream was super frozen and hard to scoop, my arms were in so much pain. I came home from my shift at 11 pm and tried to eat a bowl of cereal with an ice pack on either forearm. It was quite a scene, and I didn't know whether I should laugh or cry. Moments like these made me stop and think, "wait- how exactly did I get here?"
It turns out I had a textbook case of tennis elbow. This is kind of ironic, because if you've read my May blog post you'll know that I actually do play tennis. Instead, I contracted the injury from repeatedly attempting to scoop a frozen solid batch of birthday cake ice cream. I ended up wearing an arm brace for a couple weeks, but now I'm pretty much healed.
Among the difficult moments have been plenty of small moments that just made me smile. At one point during my first shift, I noticed that 'Hair' by Little Mix (my absolute favourite girl group) was playing in the store. Now, either 'No More Sad Songs' or 'Hair' comes on during every shift, and I grin like an idiot every time. (Side note- aside from this ice cream shop, it's literally SO rare to hear a Little Mix song playing in Canada. I can count on my hands the number of times I've heard one. Just another reason I want to live in the UK).
Aside from the music, an ice cream shop is generally a positive place to work. I get along with all of my coworkers, and seeing the pure joy on the faces of kids and adults alike hasn't gotten old yet. Plus, the ice cream is amazing. I will never get tired of certain flavours (like raspberry, cheesecake, and double dark chocolate), but I'm not the biggest fan of others, especially if they were responsible for nearly breaking my arm (I'm looking at you, birthday cake). Anyways, I'll be sure to keep you updated on how my job is going in next month's Fuzzable Blog.
I hope you enjoyed this blog post! My mind is still in a weird place- not quite out of school mode and not quite into summer mode. This month has pushed me to my limits and presented challenges I've never had to face before. It has definitely taken a toll on both my physical and mental health, and I'm still recovering from everything. But, I made it through, and I'm proud of myself for that. Now, I'm onto the next battle- how to spend my summer.
For the next two months I really want to focus on my writing. After neglecting it for basically the entire month of June, I have so much I want to catch up on. However, it hasn't been as easy as I would have liked to jump back into it after my extended break. But, I'm inching my way in and hopefully, I'll find my groove again soon. Aside from my job and some volunteering, this summer I want to stay active, pick up my ukulele again, post regularly on CelebMix and Fuzzable, and hopefully start my own website or blog. And of course, I'm gonna eat an obscene amount of ice cream.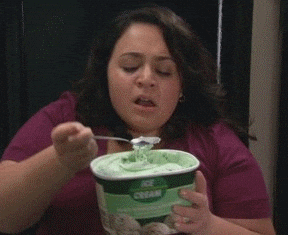 See you here next month with a fresh blog post!
-Annemarie (#27)
Share your thoughts with us on Twitter @Fuzzable, or tweet me your best ice cream GIFs @rietherie!