Mark Yarnell once said,

In one of my tweets, I wrote that "in a world of nods, a dissatisfied face is a pleasing spectacle" and no one proves this statement better than RM. Namjoon aka RM is a rapper and the leader of the popular South Korean group BTS. He along with the boys is dominating the music scene showcasing their influence within and beyond the South Korean entertainment industry. While a lot of people measure BTS' success with the number of likes, followers, and views, the real reason for their immense popularity lies with their identities as artists.
We chose RM as our Crush because of his journey. RM has always been a skilled artist but as an individual, he has faced a lot of issues. But over the years, he has been able to embrace himself. His songs are an open account of his journey from self-doubt to self-love and through him, a lot of fans have been able to love themselves. Below are some of the reasons why we love RM:
RM's Influence on Members
RM became the leader of the group at quite a young age but he has been able to not just keep the group together but also build a significant relationship with each member and the staff. He chose the group when it was easy for him to choose a solo career as a rapper.
His influence on members is evident from the fact that the decision of Jungkook to join Big Hit was entirely based on his encounter with Namjoon. After watching him, the youngest member decided to begin his journey into the industry with BTS. In the words of members, he has been a great leader.  During their time at Billboard Music Awards, RM stuck with the group and did not let them feel alone. Even though he was the only member talking to the interviewers, he made a point of giving every member a chance to interact with the media and fans.
Too Wise for his Age
One of the things that make Namjoon stand out is his sensibility as a human being. He is way too wise for his age and the same has become quite evident in the songs he has written for BTS and beyond. His collaboration with Fall Out Boys for "Champion" serves as yet another example. When a lot of emphases is laid on being "successful", he put forth the crude reality of life and focuses on 'mere existence' which sometimes, is more important than being "a dead body".
This seems to be the big reason why he gels well with Suga, J-Hope, and Jin. Being the "hyung" line of the group, they create an atmosphere for their younger members where the latter learn new things and get inspired to challenge themselves every single day.
When V shared how he became conscious of people's comments over his mullet, RM made a point of emphasizing V's trait of never listening to what others say. His poem for the members that he recited during one of the "Run" episodes went on to show the place each member holds in his heart.
Namjoon is still learning. He has been able to manage things so well that one finds it difficult to accept that he too might have problems. But we need to be considerate and realize that he too is a kid who still needs to learn a lot.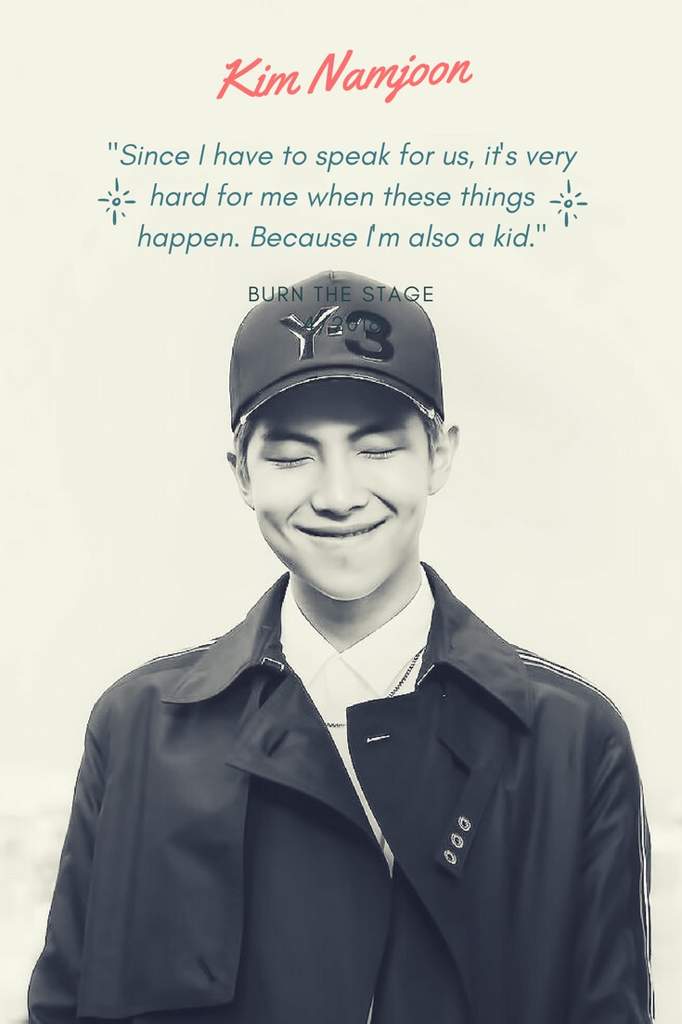 A Great Teacher for His Fans
While the members have been a driving force for their fans, RM has made a point of reminding his fans that no matter how difficult our lives may be, we all can endure it. The song  "Two! Three!" is one of the best songs he could have given to his fans. It talks about the harsh reality of life and how one can survive with love and hope.
A Skilled Artist
Hitman Bang, the producer as well as the CEO of Big Hit Entertainment confessed that he formed BTS because of RM. The rapper has been one of the founding members of the group and as an artist, he has transformed a lot. Beginning with a sole focus on rap, RM has been able to create ballads and experiment with sounds no one expected BTS to experiment with. Along with the staff and other members of the group, he has worked to create some of the most memorable tracks including "Spring Day".
RM has charted a long journey and every moment of success that he is enjoying is well deserved. The transition from "I wish I could've loved myself" to "I love myself" shows how far he has come. He has normalized intelligence and inspired a lot of people to work hard. This sums up our piece. Share your thoughts about BTS' leader via tweet @Fuzzable.
All images and videos belong to their rightful owners. We don't own these creatives.