Having dry skin is a pain, and sometimes finding the right cruelty-free products can be difficult due to your choices being minimized for your dry skin needs. After a bunch of trial and error, I can tell you that I've finally found a good mix of products to suite my dry skin, using ALL cruelty-free products!
1. Eve Lom Cleaser ($135.00)
This cleanser is a five-benefit formula that decongests, exfoliates, tones, soothes, and deep cleanses to remove impurities and waterproof makeup for a beautiful complexion.
For me, this helps prepare my skin before applying makeup, making sure it's completely clean.
2. Coconut Revolution Organic Coconut Oil For The Body ($19.95)

Made with 100 percent organic, cold-pressed, virgin coconut oil, this is a whole body treat that creates smooth, soft, happy skin and well-nourished nails and cuticles. I use this coconut oil to moisture my skin to the max.
I put this all over my face and gently dab it under my eyes, leaving it on for about 10-15 minutes to sink in. So I don't feel the oily texture, I also gently rinse off my face.
3. LUSH Enchanted Eye Cream ($27.95)
This eye cream is a gentle, soothing blend to minimize fine lines.
With lavender, honey, and water to reduce swelling with cold pressed almond and jojoba oils to moisturize, you get a nice hyrdated eye that you need before putting on any concealer and setting powder.
4. e.l.f. Eye Refresh ($3.00)
The cooling sensation of this product brightens and refreshes the eye area to help with under eye puffiness and dark circles.
Infused with pomegranate, rosemary, green tea, cucumber, and grape, your eye is left even more hydrated.
5. Klurskin Ultra Bright Hyaluronic + Vital C Repair Serum ($40.00)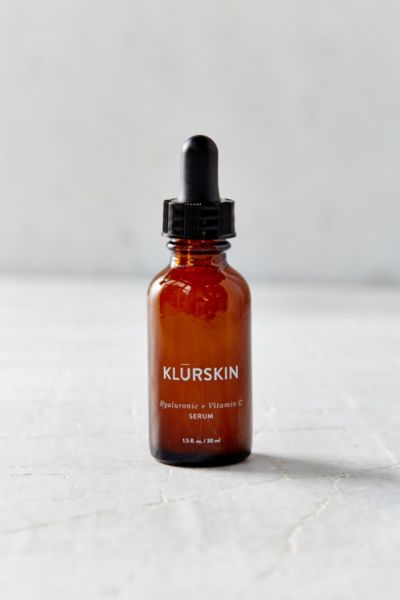 I use this product because it's supposed to help your skin become brighter, smoother, and highly moisturized. Hyaluronic acid plumps and moisturizes your skin, leaving you with younger, firmer and brighter complexion. Vitamin-C then helps to fade sun spots, hyper-pigmentation, refines skin texture and reduces wrinkle formation as well as minimizing existing fine lines.
For me, a few drops of this helps prep my skin for makeup while helping with any sun spots or hyper-pigmentation I may have. Although I love using this, this is completely optional. I just feel like my makeup goes on smoother with this product on.
6. Mario Badescu Oil Free Moisturizer SPF 30 ($28)
This product has powerful antioxidant green tea and supplies anti-aging protection in this easily absorbed, daily moisturizer.
It's moisture locking aloe vera hydrates and softens skin while St. John's Wort offers soothing and reparative benefits for delicate skin.
This is recommenced for every day use on combination, sensitive, oily or acne-prone skin. I love this product because it has SPF in it without feeling too much like a greasy lotion. For dry skin, moisturizer is a must.
7.  NYX Cosmetics Skin Elixer Balance Tea Tree ($11.99)
This skin elixir is infused with tea tree oils. I love this product because it's a primer for a great price that primes and hydrates for a better makeup application.
When I use a primer all over my face that isn't moisturizing like this one, I feel like it makes any dry patches on my face stand out more along with any fine lines.
8. NYX Cosmetics Pore Filler ($13.99)
Although this a product that's supposed to be a sleek primer that smoothes inconsistencies in the skin to create a flawless, smooth finish, I use this product for under my eyes.
Using this product helps my under eyes crease less without drying it out in the process when I put my foundation on top of it. Yes, I use my foundation as a concealer because most concealers are drying under my eyes.
Although this isn't the same texture as the green tea primer, it does not dry my face out.
9. BECCA Ultimate Coverage Complexion Crème ($44.00)
This foundation is full coverage and made for any skin type. Having dry skin, I was hesitant to try this out, but it worked!
"The formula contains a balance of 21 percent pure pigment and 22 percent water, which work in synergy to completely conceal imperfections, redness, hyper-pigmentation, and uneven texture in a weightless cream."
As long as you moisturize and prime to help with your dry skin, this goes on effortlessly.
10. Double Duty Beauty Shape Tape Contour Concealer ($24.00)
Whether you're highlighting or using this just as a concealer, this is perfect for dry skin and full coverage.
It's hydrating, longwearing, and doesn't crease while still looking natural!
Personally, I love using this under my eyes and then setting it with the powder you'll see next.
The concealer has Amazonian clay and conditioning mango seed and shea butters.
11. Cover FX Matte Setting Powder ($32.00)
This loose setting powder helps set foundation and minimize shine.
This loose setting powder is rich in healthy ingredients that soothe, minimize shine, and extend foundation wear to last all day.
The best part about this powder is that it leaves you with a matte look without over drying your face. I use this powder to set my under eyes along with any areas on my face that I feel need to be set. Some of those spots include my t-zone (which sometimes gets oily depending on the weather) along with my smile lines.
12. NYX Cosmetics Dewy Finish Makeup Setting Spray ($7.99)
The NYX Dewy Finish Makeup Setting Spray is a great long lasting formula with a dewy finish.
I love using this setting spray because it helps my makeup last longer while giving it the nice dewy finish that I need in order for my face to not look dry.
13. Mario Badescu Facial Spray With Aloe, Herb and Rosewater ($7.00)
This is a refreshing, hydrating mist to use anywhere anytime. It's formulated with fragrant herbal extracts and rosewater for a pleasant, pick me up for dehydrated, tight and uncomfortable skin.
I love bringing this spray with me for a boost of hydration throughout the day if my skin is feeling a little more dry than usual.
What's also great about this product is that you can use it to set make-up or spray on dry hair throughout the day as well.
If you find anything similar to the products listed above, such as another brand of coconut oil or rose water spray, feel free to use that instead! Mix and match to meet your desired needs. 
Did these tips helped you out? Do you know any other cruelty free products that help for your dry skin? Let us know on Twitter @Fuzzable!
Cover Photo by Nathalie Jamar then Edited by Melanie Gomez