Inject a bit of colour into the festive season with our selection of colourful jumpers for Christmas! The days are getting darker and the nights are getting colder, so what better way to keep yourself warm and snug this winter than a colourful woolly knit. We don't want to see any bland winter wardrobes this year, everyone deserves some happy brights!
Let's get this woolly winter wardrobe started…
Kicking off our colourful jumpers for Christmas with this piece from Lazy Oaf. Definitely one of the more expensive items on our list but we just love the bright contrasting chequered pattern on this oversized cardigan! Make a statement but keep it comfy in this relaxed fit piece, from the beautiful Lazy Oaf brand.
Inject a little spice into your festivities with this fun fit! The bold design and bright pink colour will definitely be a conversation starter! Dare to wear this jumper, or is it a little too spicy for your taste…
P.S. for all our student readers we heard you get 20% off this site – you're welcome!
We love the playful pastel design of this jumper! The pale icy blue is the perfect shade for winter, while the pretty daisy design keeps it fun and colourful. And for only £24.99 we are in love!!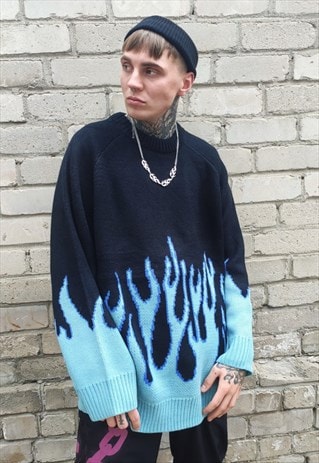 This flame print jumper is the definition of cool! From the London boutique Now Millenial, their goal is to bring the latest Korean inspired streetwear to customers who want something a little different from the mass-produced high street brands. Be bold and make a statement with this eyecatching piece!
Okay, we're obsessed with this one! The pastel tones and varied stripe pattern is giving us LIFE, definitely looks like it's been lifted right off our Pinterest board. The thick chunky knit is ultra-soft making this the perfect jumper to snuggle up in on a winter's night with some long fluffy socks and a big mug of hot chocolate!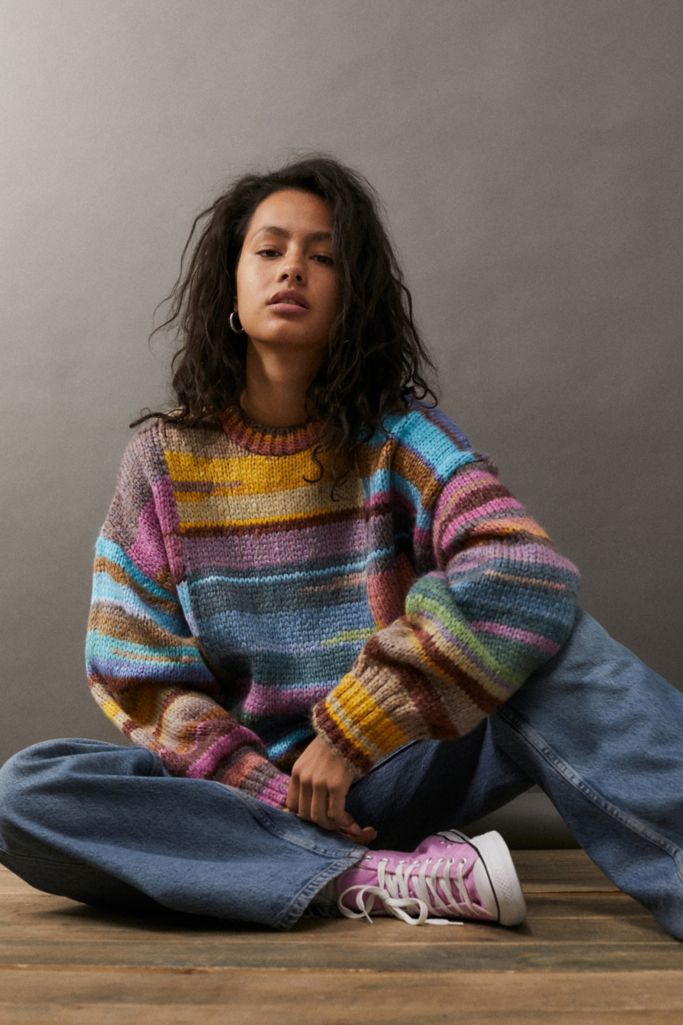 Keeping the stripe vibe rolling with this one. The relaxed fit in a soft and chunky knit looks like heaven! This might be the most colourful jumper on the list, she's like a muted rainbow and we love it. It's a little on the pricey side at £56, but it's been a hard year so if this one floats your boat, we say treat yourself!
This ASOS and Olivia Bowen collab is super cute! The blue cross pattern is giving us major 90's vibes, very Clueless/Mean Girls! If you want bold colour and pattern but a bit more subtle and understated, this is the graphic knit for you!
ASOS are really coming through with the graphic knits this season! The use of a subtle beige offsets the electric blue design perfectly, creating an eyecatching jumper that really pops! You'll just want to curl up and hibernate this winter season in this comfy oversized fit…
We had to sneak a sweater vest into here somewhere and at £16 this one's a steal! Dress it up under a shirt dress, or keep it casual over a plain tee. Everyone's obsessed with this look at the moment and we can see why!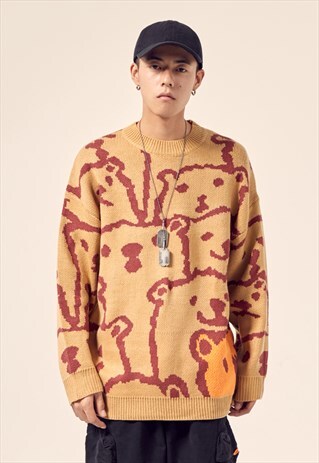 Our final graphic knit is another London boutique entry Demos. They are an independent vintage brand, selling pieces from new emerging designers and some made to order items! We love this playful print and the seasonal colours, with a pop of bright orange really ties the jumper together.
What do you think of our colourful jumpers for Christmas? Will any of these be making it into your winter wardrobe? Let us know on Twitter @Fuzzable