CREDIT (Feature Image): Netflix
Netflix's Bridgerton has caused a lot of hype, but love it or hate it you can't deny the costume designers killed it!
If you've not yet seen Netflix's latest addition to their period drama collection, you're missing out! Fans are going crazy and not just for the story, but for the fashion! Period clothing is definitely going to be the next big thing, we're talking corsets, silk and satin! So here are our favourite picks to get a modern twist on the ICONIC Bridgerton bouj, without breaking the bank!
ASOS DESIGN Pearl Trim Corset – £26
CREDIT: ASOS
This black corset top gives you all the style of a corset with none of the restrictiveness, the back is a simple mesh with clasps. So if lace-up synch is not your thing, this is the one for you! We love the elegant black boned front and the pearl trim gives added glamour!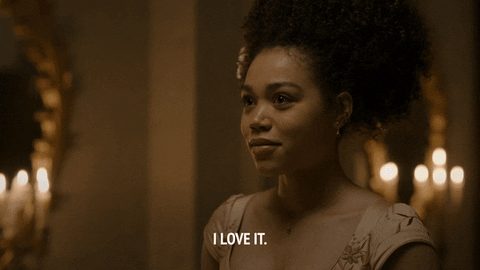 Pretty Little Thing White Hook Front Ribbon Corset – £20
CREDIT: Pretty Little Thing
This simply white corset would definitely be Daphne approved! Understated elegance and would look great layered over a white shirt dress or with a simple pair of jeans or trousers!
Missguided Black Satin Bias Cut Midi Slip Skirt – £14.25
CREDIT: Missguided
Get the ball gown effect without the ball gown! We would love to see this paired with the black pearl trim corset, dress it up with a pearl necklace and heels, or dress it down with a simple trainer and cropped denim jacket.
H&M Calf-length skirt in Light Purple – £19.99
CREDIT: H&M
We adore this lilac satin skirt! The perfect combination of the Featherington's colourful flare, and the Bridgerton's sophisticated glamour.
ASOS DESIGN Petite Cami Maxi Slip Dress – £45
CREDIT: ASOS
This high shine oyster satin is just gorgeous! We could definitely see Daphne rocking this one. The cowl neck is so flattering and the colour is a perfect pairing for gold jewellery. Simple and elegant!
& Other Stories, Ruffled Strapless Midi Dress – £35
CREDIT: &OtherStories
This one feels too good to be true, currently on sale from £120 to £35! What a find! We love the simple top and the dramatic ruffled bottom. Keep your waist looking snatched with the statement belt, this dress will flatter any body shape! You'll undoubtebly be the diamond of the season in this one…
ASOS DESIGN High Kneck Top with Puff Sleeve and Floral Embroidery – £32
CREDIT: ASOS
If a corsets not your vibe, no need to worry, there are many other styles that scream Bridgerton! This high neck, long-sleeved piece is modest and stylish! The puff sleeves and high neck are certainly giving major period drama vibes!
ASOS DESIGN Floral Organza Long Sleeve Top With Pussybow Sleeve – £14.30
CREDIT: ASOS
Major Eloise vibes! We could just see her wearing this whilst scribbling her investigative notes in her diary! And it's been reduced from £34 to £14.30, so what are you waiting for?
CREDIT: H&M
This dress could've been pulled straight out of Daphne's closet! We love the square neck and puffed sleeves, definitely a Daphne staple style. The silver colour is right up her street, the best colour to complement the family diamonds (or for us the Primark crystals). Oh and in case you didn't notice this is currently on sale for £4!!! WOW
We hope you enjoyed this list and feel inspired to live your Bridgerton fantasies! And for the fans of the first season, we heard it's been confirmed for renewal… Season 2 here we come!!!
What do you think of our Bridgerton Bouj but on a Budget, let us know on Twitter @Fuzzable