Yearly makeup trends can be pretty hit-or-miss. If you aren't up to date with the most recent runway shows but still want to look like one of the models on the catwalk, this article is just for you.
Glossy, shimmery, and bright are just a few of the words that can be used to describe all the makeup looks you'll be copying this year. From glossy lids and glitter lips to outstanding blue gaze and pink cheeks. Whether you're a makeup addict or just like trying something new, get ready to empty your wallets because this year will be a good one!
1. Glossy Lids
A trick beloved by Marilyn Monroe back in the day, makeup artists at fashion week were dabbing Vaseline on top of all of the lids for a glossy finish at fashion week.
How to wear it? Now, you can do the same with lip gloss. Unless you want to be "normal " and get yourself this Milk Makeup's Eye Vinyl.
I tried to recreate glossy lids and I can honestly say, LIP GLOSS does wonders!
Spotted at: Christian Dior, Peter Pilotto, Max Mara.
2. Blue eyeshadow
Reach for electric blue and create that strong bold eye and outstanding blue gaze. It's time to show Queen Elsa of Arendelle who's the real queen of cold!
How to wear it? Always use an eyelid primer. Since blue is a primary color, it can easily take on a different hue once it's applied to bare skin. If you're using matte shades, remember that they tend to work best in the crease and up to the brow, especially if you're working shimmer on the lids.
You can also check out this great tutorial of super-simple steps to wearing vibrant blue eyeshadow in a non-cheesy way.
Spotted at: Olympia Le-Tan, Jill Stuart, Thow Brown.
3. Glitter eyes
Whether you're going out for a night on the town or you're a just naturally born star who needs to shine, glitzy glitter makeup is a glamorous addition to any outfit. However, always remember that with glitter, you can go down one of two paths: subtle or extremely glittery.
How to wear it? To go subtle, prime your eyes, take a sparkly eyeshadow with glitter, and just spread that over your lids with either your finger or a flat eyeshadow brush.
To take this to the next level, you can take a darker shimmer shadow and layer that on the outer corners of the eye to create dimension.
https://www.instagram.com/p/_TH8uEwzKD/?taken-by=mileycyrus
Spotted at: Fausto Puglisi, Burberry, Giambattista Valli
4. Dark Lips
Are you bored of classic red and pink lipsticks? Try a dark one!
It will give you an immediate character to the face and a tough attitude. Moreover, they were an absolute favorite at the biggest shows at Fashion Week this year.
"It's moodier and less prissy than red or other pretty bold shades."- says makeup artist Nick Barose
How to wear it? Just keep the rest of your look very minimal and focus on the lips. For perfect application, use a pencil.
Spotted at: Christian Dior, Rodarte, Marni, DKNY, Carolina Herrera.
5. Monochrome makeup
Matching makeup trends have come, and gone, in many variations.However, the most on-trend right now is monochromatic makeup.
It's the technique of keeping your eyes, lips, and cheeks within one shade range.
The secret to making it flow? British make-up artist Pat McGrath, who has been called the most influential make-up artist in the world by Vogue magazine and other commentators, used lip color on the eyes for fluidity and staying power.
Spotted at: Anna Sui.
6. Two-Tone lips
Do you want to make a lip statement but don't think crazy shades look good on you? Don't worry. Two-tone lips will do the trick!
How to wear it? For example, apply a matte red color on your upper lip and a hot pink shade on the bottom lip. At a distance, the colors look the same, but up close it's  playful and so fun for your next night out.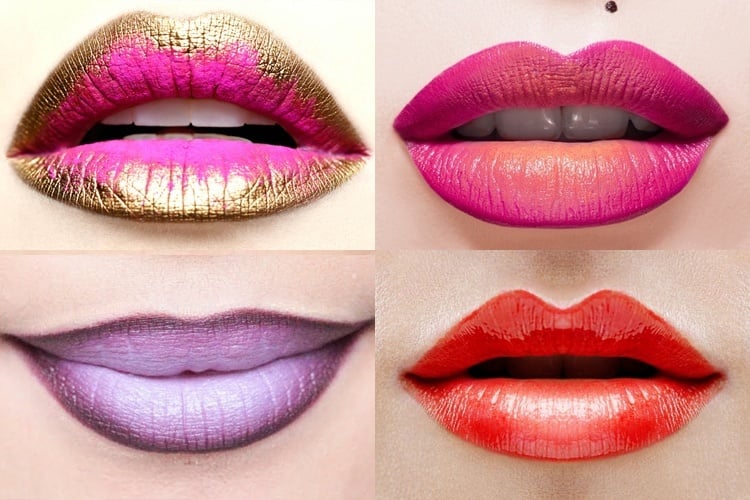 Spotted at: Jason Wu.
7. Draping
Are you fed up with heavy contouring? Do you want to try something new? Yes? Well, then draping, AKA the sculpting-with-blush might be perfect for you.
How to wear it? Just apply a soft pink blush to the cheeks and towards the brow bone in semi-circle fashion. Equal parts statement-making and youthful, it's basically the new contour.
Spotted at: Adam Selman.
8. Glitter lips
Glitter lips have been building as a major makeup trend for a while now. You've probably saw at least a couple of pictures of celebrities/models on instagram or red carpets wearing this new trend. The current trend began in New York, where Pat McGrath released her Pat McGrath labs 004 set. She's been creating show-stopping red glitter lips for stars such as Shay Mitchell, Chrissy Teigen and Bella Hadid.
You can recreate the same look with these Glitter Lips UK kits.
Spotted at:  DKNY, Versace.